The Gaurdian
Washington DC will host a team in Major League Rugby "no later" than 2020, it was announced on Tuesday. The city has previously been linked to plans for a US-based Pro14 team.
MLR features seven professional rugby union teams from western and southern states and has completed four rounds of its first season. The Glendale Raptors, based near Denver, lead the table from the Seattle Seawolves and the San Diego Legion. Broadcast on CBS and ESPN, the season will play out over 12 weeks with a championship game on 7 July.
An eighth team, Rugby United New York, played exhibition games last month and is due to enter MLR in 2019. Ontario and Dallas – the latter with former England coach Mike Ford attached – have also been building teams. A planned Los Angeles team is closer to realisation than projects in Boston and Vancouver, sources said.
Chris Dunlavey, partner in the Washington-based programme management firm Brailsford & Dunlavey and chairman of DCMLR, said in a statement: "We're extremely excited at the prospect of bringing professional rugby to DC.
The DC MLR team could play games in 2019, following the example of New York, but competitive play is not likely until the following year.
Dunlavey, a leading light of the Washington Irish club, is joined in DCMLR ownership by Paul Sheehy, a US Eagles full-back who went to the 1991 World Cup and is owner of Sheehy Auto Stores, a regional car dealership. Sheehy also coaches at Gonzaga College High School, a national power that produced among other top players San Diego and USA fly-half Ben Cima.
Sheehy was linked to widely reported moves in North America by the Pro14, the league that features teams from Ireland, Scotland, Wales, Italy and South Africa. New York and Houston, both now home to MLR teams, with the SaberCats playing this season, were also linked to Pro14 expansion. The Pro14 has not commented on the Washington MLR plan but sources within the US game said North American expansion was off the Pro14's immediate agenda, given its addition of two South African teams.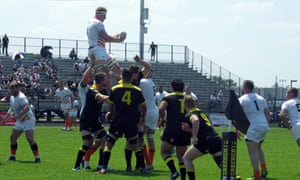 The US capital will host the South African national team on 2 June, when the Springboks play Wales at RFK Stadium. Rugby International Marketing, the company staging the game, and its parent USA Rugby, have experienced financial problems and political ructions but DCMLR said 12,000 tickets had been sold. Dunlavey said he expected the game to "help us get the word out in the rugby and local community and start to generate momentum for MLR".
"We are planning a lot of activities around that match to get people excited," he said. "We're even thinking about giving the fans the opportunity to help us name our team."
DCMLR said it was "working to finalize the location of the team's home games". At 20,000-capacity the new Major League Soccer stadium in the city, Audi Field, is too big. Other MLR teams have used existing small stadiums; Houston have reached a deal with the city to build their own.
Dean Howes, commissioner of MLR, said: "We think Washington DC will be an exciting and growing market for us. With New York committed and now DC coming on board, we can envision a robust rivalry blossoming between those two clubs.
"As important, having these professional teams in major east coast cities shows all of the young players in this part of the country that there is a future for them in our sport."